Visit Cuba, Missouri and other attractions: Wildwood Lodge since 1922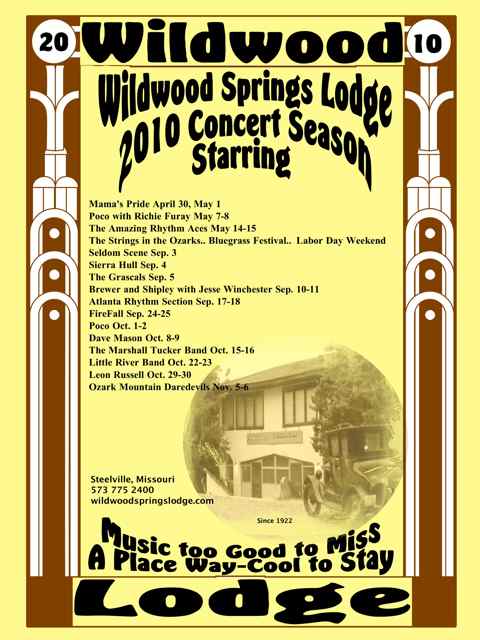 Number 1 in the 2010 Day trip attractions series for Cuba, Missouri
In 2010, we will tell you about some other local attractions that you can combine with a visit to Viva Cuba's murals.
Wildwood Lodge, which opened in 1922, in Steelville, Missouri perches on a bluff above the river and offers great food, some of your music favorites in an intimate setting, and takes you to back in time to a river resort of the past.
Full details are on the Wildwood Springs Resort webpage.  There are accommodations in the main lodge and in nearby cabins. For many visitors, the groups that play the "living room" concerts' will bring back warm memories. Innkeeper Bob Bell grew up in the area, and he knows a wealth of local history.
You can book just the concert. Tip. Get there early enough to put your name on a chair. People who are eating at the lodge, usually put their name on chairs in the great room before they go in to dinner.  If you are early, there is a bar in the room where you can get a drink. You can also watch the band set up in front of the fireplace.
You can book the concert and dinner. Jeanette Freeman is the head chef, and she and her staff use the finest ingredients to whip up some great meals and desserts.  If food like honey and brown sugar ham, pecan chicken breasts, Wildwood's signature poppy seed and house dressings, and brownie pies drizzled with chocolate ganache call your name, you will enjoy the Wildwood dining experience. And the dining room looks like a movie set from the twenties.
You can book the dinner, the concert, and overnight accommodations. There are rooms in the main lodge or in nearby cabins. Long porches and rocking chairs provide a good view of the outdoors. Details and photos  are on the Wildwood website. Sign up for Bob's email on concert updates and details.
Come to Cuba, Missouri to visit the murals and an option is a trip to Wildwood for what some of their regular clientele call a little Wildwood magic.
UPDATE: Bob Bell and his daughter recently published a book on Steelville, Missouri.
See the entry "20 Things to Do in Cuba, Missouri…"