A Route 66 Missouri gift idea waiting for you…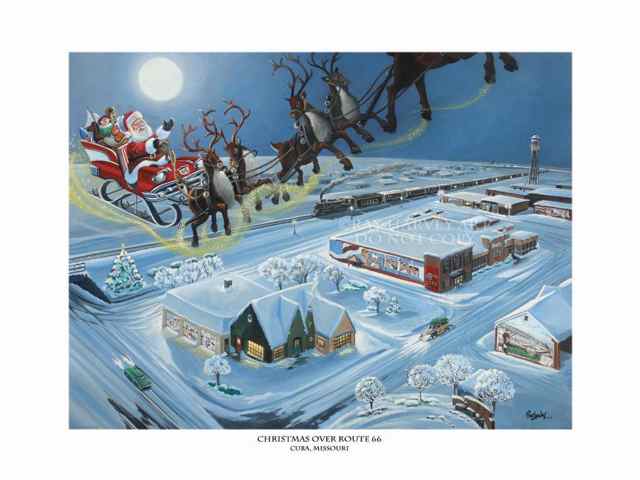 Viva Cuba, the beautification group that commissioned Cuba's murals, had long been wanting a piece of artwork with a Christmas scene. It didn't seem right for a full-time mural. They discussed alternatives with Missouri artist Ray Harvey who was known for such scenes. Harvey had previously painted the Bette Davis and Phillips 66 murals for Viva Cuba. After about three years of discussion and several months of preparation, the print titled Christmas Over Route 66 Cuba, Missouri was introduced at Cuba Fest 2012, and it enjoyed brisk sales. Artist Harvey was at Cuba Fest to sign prints and talk to people as he also put on a carving demonstration of some whimsical pumpkins. This particular artwork is a $20 print that is available to all Cubans, past and present. It will fit in a stock 18 X 24 frame, so it doesn't require custom framing. Viva Cuba is happy to offer this print that is accessible to all Cubans on a more personal level than a mural would be.
The Process:
1. Harvey met with Viva Cuba several times about how much could be included (not nearly as much as they wanted.
2. Local pilot Don McGinnis flew Harvey over Cuba for a "birds eye view."
3. Harvey photographed landmarks from the ground.
4. Harvey painted and tweaked details for Viva Cuba members. The painting was delivered.
5. The digital image was made from the painting to create the prints. They can be purchased for $20 at the Hwy. 19 Peoples Bank or Spirals Gallery. At this time, a limited number of signed copies are available.  Or you can go online to order the print for a small $7.00 shipping fee for domestic orders. The prints are shipped in a cardboard shipping tube.
6. The print was introduced at Cuba Fest 2012 to brisk sales. Artist Ray Harvey was available to sign prints and meet with those interested in the print. Could that be…
With its Christmas over Route 66 Cuba, Missouri print, Cuba continues its reputation as a small town with big ideas.
 For more information on the artist, visit www.rayharveyart.com.