Take some time Saturday to visit one of Missouri's beautiful state parks to learn about good enviromental practices and to tour one of Missouri's most geoglocially significant caves. It's a cool thing to do on a hot June day.
Head out to Onondaga Cave State Park on Saturday, June 18 for a Green Living Fair that has something for the whole family. Learn about renewable energy, green products and services and traditional arts such as tie-dying. Eat a hot dog cooked the solar way and have a cold soft drink.
Hear live blues by 5 Guys Wide. The Emmy winning band Wild Heart will entertain the kids at 10:30 and 2. The fair will be in the parking lot next to the Visitor's Center and admission to the fair is free.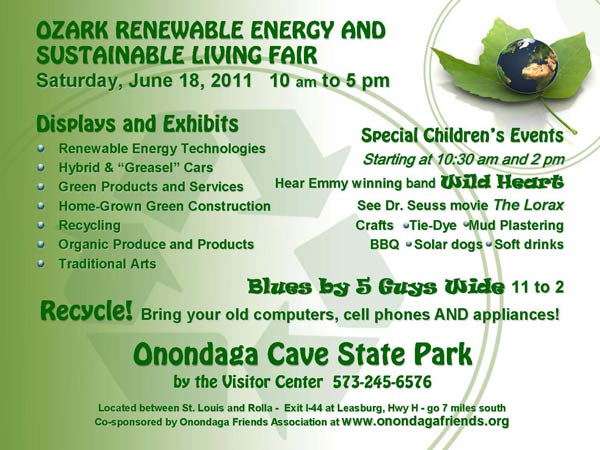 This is also your chance to get rid of that broken down washing machine! Bring it, along with your other old appliances, electronics and batteries for recycling.  Midwest Recycling Center will accept anything that takes batteries or plugs into a wall. (There is a $15 charge for TVs and $10 for computer monitors because of their toxic components. All other appliances are free to recycle.)
While you're at the park you can tour Onondaga Cave, one of the best in the country. Check the Onondaga Cave State Park website for rates and more information about the cave.
Saturday, June 18: Be cool, be green, and be there.
Onondaga Cave State Park and the Onondaga Friends Association are sponsors of the event.