Another in a series of Viva Cuba's mural artist updates for 2010…
Artist Michelle "Shelly" Smith Steiger's life has come full circle in many ways.  A hometown girl, she graduated from Cuba High School in 1986 when Camille Ogden was her art teacher. Now, she holds the position that Camille Ogden held as the CHS art teacher. In between those years, study, a career in art, and raising a family intervened,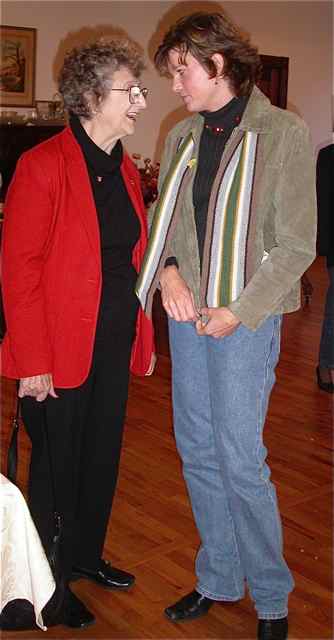 Steiger attended Mineral Area College with an emphasis on commercial art, and the University of the Ozarks in Clarksville, Arkansas, where she majored in Art Education. After graduation, she specialized in residential art commissions in Arkansas and Missouri. She also married and had two daughters. Steiger then moved with her husband and daughters back to Cuba.
In 2001, she began talks with Jim and Jill Barnett about an outdoor mural to commemorate Peoples Bank's 100th anniversary. In her research on outdoor murals, she ran across the work of Michelle Loughery of British Columbia, Canada and struck up an Internet correspondence with the Canadian artist. This would be the beginning of a  new direction for her career.
In 2001, Michelle Loughery came to Cuba with her teenaged daughter to paint the Model T/A.J. Barnett mural.  Steiger assisted and began to learn painting of outdoor murals.
Smith would go on to complete the Apple/Barrel mural on her own. When she was finished, she didn't like the faces of the people in the mural, so she re-painted all of them, showing the progress of her technique.
Michelle Loughery returned to Cuba with an assistant Sara Lindsay to paint the Gold Star Boys mural, and Steiger once again assisted and continued her informal apprenticeship
Steiger was the premier artist who worked on the Amelia Earhart mural. Another local artist Julie Balogh Brand assisted her, thus Steiger became the teacher instead of the student.
Steiger and Balogh Brand also partnered on the Millworks/Robert Judson mural. South St. Louis artist Julie Nixon Krovicka painted the figure of her father Francis Nixon in the mural.
Steiger and Balogh Brand worked together on the River mural, which depicted a vintage river scene. Steiger has worked on six of Viva Cuba's murals, more than any other artist.
After Steiger's daughters were in school, she decided to apply for a teaching position at Cuba High School, her alma mater. Today, she focuses on her students' work and progress during the school year.  She is mentoring and instructing a new generation of artists and creatives, including her daughter Kate who is interested in fashion design.
Last summer, Steiger supervised  extensive mural maintenance for Viva Cuba.  In the past, she has created some outstanding pieces for Viva Cuba's Chair-i-table Auction, which is held in May on the Saturday before Mother's Day.
Currently, she is discussing a historical mural with a local business so there may be a new Steiger mural in the future.
Steiger is a valued resource to Viva Cuba, and she has touched the community with her teaching and artistic depictions of Cuba's history.
To see all the murals that Steiger worked on, visit the Viva Cuba website.