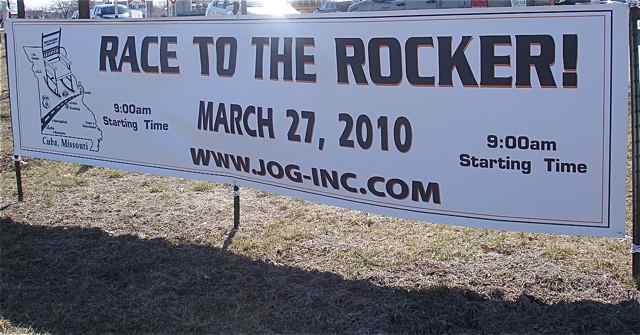 Lately, it seems that I have been blogging about blogs that I find about Cuba and its attractions. Then that blogger blogs about us again. And sometimes I have to blog back.  It's hard to get the last blog in.
Here's another of the blogs that I found about Cuba's Race to the Rocker. It starts out with "This is amazing."  I checked out the blogger named Melissa who is from the Mineral Area.  She is a freelance writer and photographer. Here's a quote from her blog:
I mean seriously – It's a road race in a small central Missouri town that ends at a 40-foot rocking chair. It doesn't get much better than that. So am I gonna run it? Absolutely.
Her blog is called A Small Town Girl's Guide, but don't let that fool you. In the last 10 years she has lived in 7 cities, 5 states, and 2 countries. She's a fan of public art, so I think she plans to return to Cuba after the race to photograph and write about the murals. She now lives in the Potosi, Farmington, or Pevely area depending if she is at home or visiting her parents or boy friend.
Again, Cuba's attractions have reached out to others and brought them into our fold. Visit Small Town Girl's site and maybe you will meet her at the race. She has some great photographs and blogs on her site about traveling to various attractions around the state.
She will probably blog about the race after she runs. A blogger's work is never done.
Pre-registration for Route 66 Race to the Rocker is nearing 300. If you are still interested in registering for the race, go to www.jog-inc.com for more information or register online at www.GetMeRegistered.com under March Events.
Learn more about the murals at cubamomurals.com.