Route 66 Cuba Fest 2013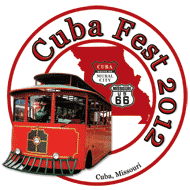 October 19-20
Recklein Commons
N. Smith Street
Cuba, MO (see map)
Crafts, Music, Trolley Tours, Apple Butter making, Food, 5K Race, Family Fun, and more
Sign up to be a vendor! See the Food or Craft vendor forms here:
Check our blog for more information on Route 66 Cuba Fest 2013 and see scenes from past Cuba Fests here.
Call or email Cheri Schuette at 573-885-2988 or 573-259-0480 with any questions.

Check back here for updates or go to the Route 66 Cuba Fest 2013 Facebook page.
We hope to see you there!