Christmas Over Route 66 Print & Postcard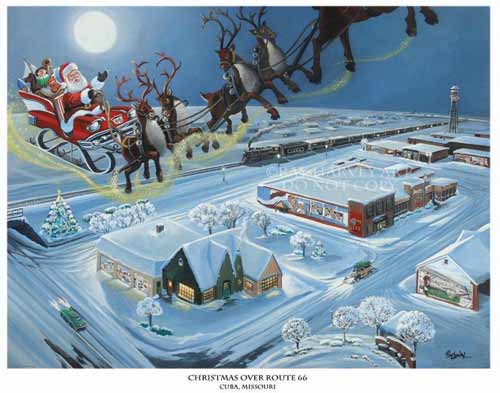 Christmas Over Route 66 – Cuba, Missouri
A nostalgic Christmas print using elements of the past & present from Cuba, Missouri
The print is 18 X 24 including a border area
$20.00 plus a small fee of $7.00 for shipping and handling within the U.S.
(Copyright Ray Harvey – www.rayharveyart.com)
Prints will be shipped inside a plastic sleeve in a cardboard mailing tube.
Buy the print now:
As soon as we complete the PayPal transaction, our cheerful elves will prepare and ship your print. We hope you enjoy it and think fondly of our town.
Postcards-Limited numbers left!
We also have a 5X7″ postcard version of the Christmas Over Route 66 Cuba, Missouri print. It is suitable for framing or mailing. Many people used the postcard as a Christmas mailing last year.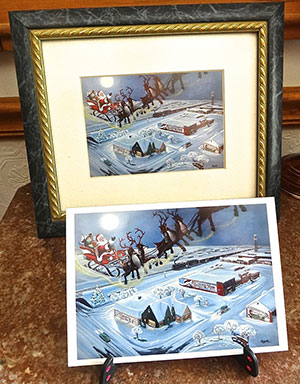 Postcards are available in bundles of 6 for $5.00 plus .75 for shipping and handling. Place your order, and we will get our elves busy sending out orders.
Buy the postcards now:
The Story Behind the Artwork
To prepare for creating the print, local pilot Don McGinnis flew the artist over Route 66 (in his plane, not in a sleigh) to survey the overall layout of the area. Harvey also snapped shots from street level. He met with Viva Cuba members about what they might want included in the print. Of course, they wanted much more than could ever be included.
The focus of the print had to be narrowed to some of the original area of Cuba featuring the restored Phillips 66 station. The streetscape is not to scale, and some elements are of the present day (murals) while other elements will be of the past (cars, Christmas decorations, etc.). Artistic license allows for elements that might not be present in "real time."
When word of the print was published on Facebook, someone asked that the "crown lights" that were once on the west end of Cuba water tower "please, please, please" be included in the print. A little research at the Cuba Free Press revealed a December 3, 1963 article that stated that 480 colored lights were arranged around the base of the Cuba water tower in the form of a crown that could be seen for miles.
Harvey has used light to illumine buildings and the street and added Santa and the reindeer as a feature of the print. Elements of the past, combined with current street scenes, make the print traditional and reminiscent of an earlier Cuba. Because of the holiday nature of the print, purchasers may just hang the print during the holiday season, or they can include it in their décor year round.
Viva Cuba hopes that the print and postcards will be keepsakes of Cuba's Route 66 and will one day be a part of the memories of a new generation of Cuba kids.
For questions concerning your order contact
Jessica  jprock@peoplesbk.com or Kim kbaldwin@peoplesbk.com.
No images/print should be reproduced in any manner whether for private or commercial use as the image is copyrighted to the artist.