Supporting Viva Cuba and Beautification Projects
The May 5th Giving Day is over, but Viva Cuba continues its projects to beautify Cuba. Soon the new Welcome banners will take their place on utilities poles to brighten the landscape.  Thanks to all the businesses and individuals who also do their parts to make our small town a great place to live, raise families, and do business. Viva Cuba! Here's a summary with photos of past projects. Watch our video of some of our scenes around Cuba, MO "Route 66 Mural City."
Viva Cuba Stands on a Foundation of Community Projects
With 31 years of beautification and public art, Viva Cuba begins 2015 with a strong foundation of community projects. It is a non-profit staffed by volunteers, and all funds go to community projects.
In 1984, Viva Cuba, Inc. organized with the goal of beautifying Cuba to attract new industries and jobs. Many groups and individuals worked together in the early days to landscape Highway 19 and make it a more attractive entrance to Cuba.
In 1987, Viva Cuba became the first Adopt-A-Highway site in the state. Over the years, planting continued, cleanup projects went forward, banners took their places in the community, and in the '90s the Viva Cuba Garden, which has been enhanced, became a part of the four-way Hwy. 19 and Route 66 intersection. These efforts continue with maintenance and further improvements.
In 2001, Viva Cuba implemented a major project of commissioning 12 outdoor murals by Cuba's 150th anniversary in 2007. Again, organizations and individuals supported Viva Cuba's efforts and helped the organization reach its goal. Today Viva Cuba maintains the murals and other public art in Cuba's historic area.
Writers and film crews visit Cuba to cover "The Route 66 Mural City" and feature its attractions. Viva Cuba's trademarked Route 66 Mural City logo has become a known brand for Cuba and businesses have added their own murals to Cuba's public art.
By writing a mural curriculum for the school and conducting student mural tours.Viva Cuba has helped Cuba's young people learn local history. Over the years, young people have often been involved in Viva Cuba's work, and their involvement continues today.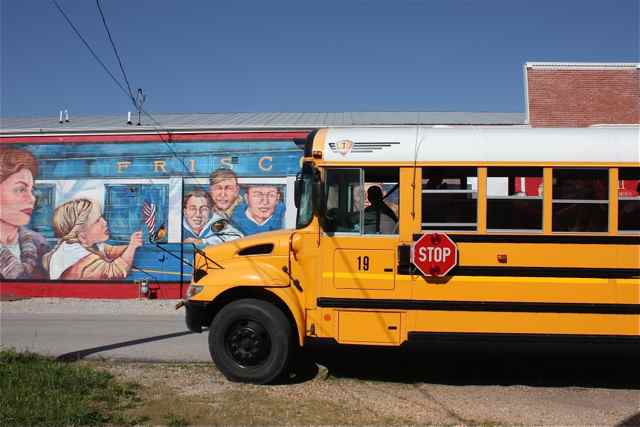 As result of the murals and other factors, Cuba has become a tourism destination as travelers travel to town to view the murals and other attractions. The Wagon Wheel Motel continues to attract Route 66 travelers. The Guinness World's Largest Rocking Chair has become a stop for travelers from around the world. The Crawford County History Museum, Recklein Memorial Library and the Veterans Memorial are the core of the Recklein Commons Area. The Chicago Sun-Times printed a travel article titled "Big Doings in Little Cuba."
In 2012, Viva Cuba cooperated with the city, the Crawford County Foundation, and other organizations to erect four Welcome to Cuba signs. Viva Cuba added to its public art in 2012 by commissioning a painting from Missouri artist Ray Harvey entitled Christmas over Route 66 Cuba, Missouri. The digital image of the painting was used to produce prints and post cards that are available for sale.
During past Cuba Fests, Viva Cuba conducted and narrated trolley tours of the murals, produced its annual Cemetery Tour, sponsored a chili cook-off and Chair-i-table Auction, and introduced its Christmas print and post card. During Cuba Fests hundreds have taken Viva Cuba's narrated mural tours and cemetery tours aboard the red trolley.
For 2012-13, Viva Cuba applied for a Department of Conservation grant that inventoried the trees along Highway 19. The inventory will be used to trim and maintain the trees with the input of a trained arborist. Viva Cuba looks forward to its Annual Trash Bash in May and its spring plantings. In 2014, Cuba received the distinction of becoming a Tree City USA.
Viva Cuba introduced small pocket mural projects to the historic district.
Viva Cuba continues to maintain the murals and the Viva Cuba Garden,
Using its website, a blog, Facebook, Pinterest, Twitter, and articles in the Cuba Free Press and other media outlets, Viva Cuba promotes our town and tells of its art, history, and attractions.
Viva Cuba is committed to the idea that an attractive town is a better place to live and do business. Viva Cuba continues to beautify and maintain its projects and is committed to a new year of keeping Cuba attractive.
Thanks for helping us fund new banners for our town. Viva Cuba could not have successfully funded its project without the support of our community.
Enjoy this photos of sevens around Cuba, MO and some of our past projects.
Viva Cuba's New Banners