UPDATE:  This business is now closed although the large bed with a  sign is now in place. 2016

Reminding everyone our store hours will change effective Jan. 1st, 2013. M-F 10am to 5pm. Saturday 9am to 6pm and Sunday 1pm to 5pm. Looking forward to the New Year!
Three Mile Creek in Cuba, Missouri is a wonderland for those who love lodge-style and western decor and furniture. The large spacious showroom features a waterfall, a creek, and a small bridge. Taxidermy animals are incorporated into the showroom to give an a more authentic rustic feel to the area. Bears, deer, a bob cat, a pheasant, and more are placed liberally around the display rooms. Custom wood furniture, built on site, is arranged to give that "at home" feel. Rustic accessories such as dish ware, soft goods, tin signs, and lamps add to the atmosphere.
Lodge-style Decor
Featuring, red and white cedar products, the store opened in 2005. The owners had over 30 years of home and log home construction experience, so they were familiar with the kind of furnishings that their clients wanted in their homes. The new business was just an extension of the desire to give their clients what they needed for their dream homes.
In 2010, a 9000 foot showroom was added, and in the spring they will open their log home display room. Wood for their furniture and logs is milled in the wood shop next door to the showrooms.
In addition to their line of lodge and western decor items, they sell posts, railings, fireplace mantles, and log home supplies including interior and exterior stains and chinking. If you don't see what you want, they can design and build for your needs.They also ship anywhere in the US and to other countries.
Lodge-style Decor
In addition to their furniture lines, Three Mile Creek also produces log toy kits for kids so that they can show off their own building and designing skills at a young age. The kits are manufactured in Cuba, Missouri.
Western Decor
On the other side of the creek that intersects the showroom, shoppers find western-styled accessories and furniture with attractive displays that are characteristic at Three Mile Creek.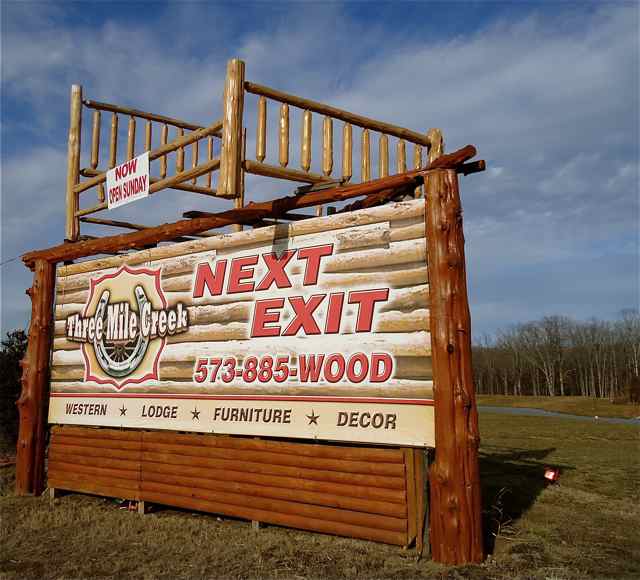 Biggest Bed?
If you travel I-44 from the west to get to Three Mile Creek, you may pass their distinctive sign with a large handcrafted bed atop it. The owners say that this is the World's Largest Bed although they have not pursued getting it certified by the Guinness organization yet. They are more concerned with getting their log home display room open in the spring.
Three Mile Creek is just one more of Cuba, Missouri's attractions of unique businesses and public artwork that is characteristic of Cuba's "Route 66 Mural City." Include this stop in your Mural City experience.
Contact Information:
Three Mile Creek* 60 Christina Lane*Cuba, Missouri 65453*573-885-9663*Fax (573)885-9664*info@threemilecreek.com*www.ThreeMileCreek.com