Almost 20 years of effort…history of Viva Cuba Garden…
At times, because of ongoing maintenance issues, a continuous push to get all the murals lit at night, and other beautification projects, it is easy to take for granted what Viva Cuba and community support have accomplished.
Then a look through the thousands of  photos that have been collected featuring Viva Cuba projects will show photos like the ones above. We realize how different the Viva Cuba Garden looked in the 1990s before its original transformation. It also took on a new look before the installation of the 1873 Train Replica and the re-landscaping of of the area in 2007-08.
The photos also bring to mind all the details that were involved in accomplishing the projects and how the support of the community helped Viva Cuba reach these goals and our ongoing commitment to maintaining these projects.
At times, we do need to stop and, if not smell the roses, we at least need to look about us with fresh eyes to appreciate what we have accomplished. Today, night and day, the corner is a treat to the eyes at a busy intersection along Route 66.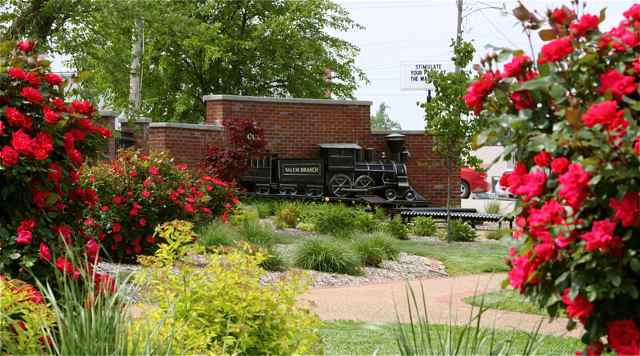 Two Cuba Free Press articles chronicle some of the changes in the Viva Cuba Garden.

"Hear My Train A Comin'."

"Viva Cuba street corner gets a second facelift."

Here's another example of before and after in Cuba, MO…"Before and after images tell the tale of restoration in Cuba, MO." This article deals with the transformation of the Phillips 66 Gas Station across the street from the Viva Cuba Garden.