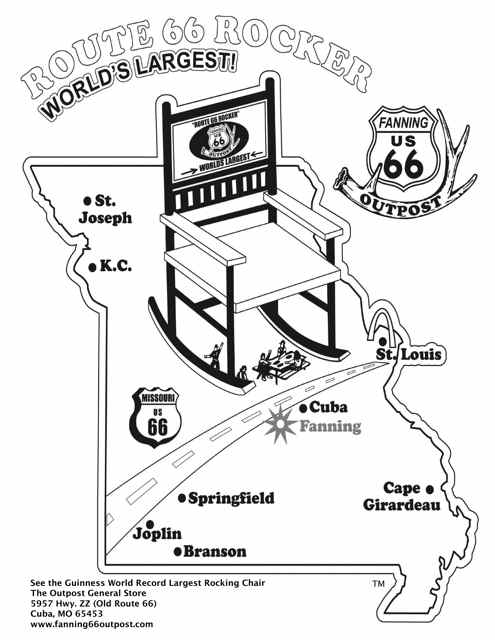 When people hear about the Fanning 66  Outpost's Guinness World's Largest Rocking Chair, they often ask if it rocks.
The answer is that for safety reasons the Route 66 rocking chair does not rock. At 26,500 pounds, can you imagine having that giant piece of furniture rock on your foot?
But…
On August 18, 2008, a serendipitous happening occurred. Radio host Frank Murphy and his wife were in Cuba visiting his wife's cousin Tom Fleming. As they were leaving Cuba on the way to Branson, after seeing a sign, they decided to stop at the Fanning US 66 Outpost General Store to see the rocker.
On the day that the Murphys were there, the welder Joe Medwick who had built the rocker, was cutting the welds and a group of men were going to push the rocker so that it would rock.
Why?
For the chair to be designated the Guinness World's Largest Rocking Chair, it had to rock at least once as part of the documentation involved in the Guinness application. As soon as this was documented, Medwick would re-weld the rocker into place and the rocking chair would rock no more.  So to actually see the rocking chair rock was a rare moment.
And Tennesseean Frank Murphy just happened to be there with his video camera. In additon to being a radio host, Murphy also writes a blog about his travels and other activities. He was probably already writing the rocker blog in his head as the event was being video taped. You can see Murphy's video on You Tube here.
We are glad that Murphy and his wife are part of the rocker's history and shared their video.
The 42'1″ rocker was designed by John Bland of Cuba, built by Joe Medwick, and the brainchild or the Fanning Outpost's owner Danny Sanazaro. It was lifted to its base with two cranes on April 1, 2008. KSDK of St. Louis was there. You can see the video on the Outpost website.